Ethanol, also known as ethyl alcohol is an alcohol derived from the processing of agricultural products of starch and sugar crops such as cassava, sugarcane, molasses and corn, etc., derived from digestion of starch to sugar (in case of starch raw material), and fermentation to convert sugar to alcohol; and then followed by distillation and dehydration to produce alcohol at the desired purity, up to 99.5% by volume.
The molecular formula of ethanol is C2H5OH with a boiling point at around 78oC. In general, its properties are transparent liquid, colorless, flammable, and high octane fuel, which can be blended with gasoline at an appropriate amount to produce a clean and complete combustible fuel and reduce air pollution with less formation of hydrocarbon compound, carbon monoxide (CO) and carbon dioxide (CO2), which is the main cause of greenhouse effect in the atmosphere.

Production of Ethanol for Fuel
Thai Agro Energy Public Co., Ltd. ("TAE"), a subsidiary company, produces ethanol for fuel by using molasses and cassava as its main raw material. The ethanol production process consists of four main stages as follows:
Mash Preparation: each type of raw material requires different processes as follows:
(a) Molasses: Preparation of molasses before fermentation by dilution with water for suitable concentration and added with acidic additive, causing organic substance or salt to settle from the molasses solvent, before proceeding to fermentation.
(b) Cassavas: Cassavas are cleaned to eliminate contaminants including metal and dirt. Subsequently, clean cassavas are mashed and mixed with water to make starch paste, then to be digested with enzyme, converting starch to sugar, before proceeding to fermentation.
Fermentation : Solvent from the first stage is fed to fermentation tanks with yeast being added to convert sugar into alcohol.
Distillation : Fermentation mash from the second stage is fed to the distillation column to separate contaminants and water producing about 96 percent pure alcohol which is the maximum concentration that can be achieved through this normal fermentation process. The remaining 4 percent of water shall be removed by the final stage.
Dehydration : The water removal process for producing the dehydrated alcohol from the distillation process into 99.5 percent pure alcohol. Water content is absorbed by zeolites molecular sieves in two dehydration units. The dehydrated alcohol will then be distilled and cooled down before being stored for further distribution.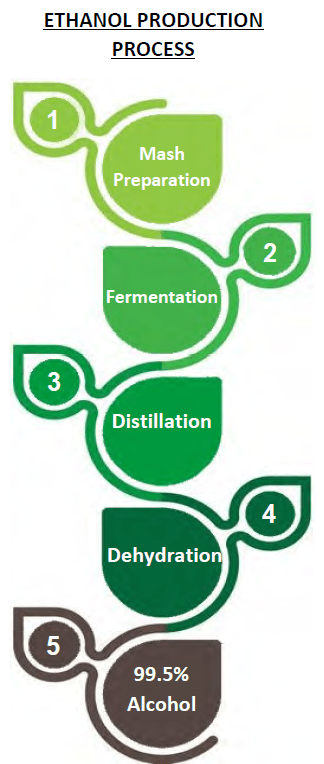 Ethanol Pricing Policy
The Energy Policy Council ("EPC") has approved the reference ethanol pricing by comparing the lowest prices between the ethanol price as reported to the Excise Department by ethanol producers and the ethanol price as reported to the Energy Policy and Planning Office ("EPPO") by Section 7 traders under the Fuel Trade Act B.E. 2543, effective from December 2015 onwards. In addition to the reference ethanol price announced by EPPO, TAE determines the selling price of denatured ethanol based on costplus-margin basis and takes into account various factors, including cost of raw materials, market demand and supply, as well as the overall domestic and international markets competition, etc.
Ethanol Sales and Distribution Channels
In compliance with the regulation of the Excise Department, the ethanol product sold to oil companies must undergo denaturation process, in which ethanol of at least 99.5 percent by volume is mixed with gasoline or gasohol of 0.5 percent by volume. The result is denatured ethanol that can be sold to oil companies according to Section 7 of Fuel Trade Act B.E. 2543. The oil merchant shall utilize the denatured ethanol for blending with gasoline in specific proportions to produce gasohol E10, E20, and E85, espectively. While most customers are responsible for the transportation of ethanol, in some cases the sellers are responsible for the transportation to the storages of a few other customers. Most of the sales are on credit term basis, and the customers are large oil companies with stable financial status. Therefore, there is no risk of customers not paying debt in the future.
Competitive Strategy
Priorities are to given to service and product quality control, as well as providing assurance of timely product delivery. These strategies contribute to fostering customer trust, strong relationships with customers, and making it possible to retain majority of the market share.
Ethanol Industrial Trend
In 2022, the average ethanol consumption demand was at 3.85 million liters per day, which increased from 2021 by approximately 3.77 percent. This was due to the improvement in the situation of coronavirus disease 2019 ("COVID-19") pandemic, in conjunction with the easing of travel restrictions, and the gradual recovery of economic conditions. As a result, the demand for ethanol, a key component in gasohol fuel, has risen.
Demand for Ethanol-for-Fuel

Gasohol Industrial Trend
The ethanol-for-fuel will be blended with gasoline in specific proportions to produce gasohol E10, E20, and E85, respectively, therefore, the demand for ethanol as a fuel within the country is primarily influenced by the volume of gasohol consumed domestically. In 2022, the national consumption of gasohol increased by 1.26 million liters per day, or 4.44 percent compared to 2021.
Competitive Trend
In 2022, there are 26 operating ethanol plants in Thailand, representing a total capacity of 6,570,000 liters per day.
Market Share of Ethanol Business

FUTURE INVESTMENT PROJECTS
The Company has established business plan and investment strategy by following diversification strategy guidelines; nonetheless such development or investment shall be under prudent and careful consideration with appropriate diversification of risks, in order for the Company to develop with quality, stability and sustainability in long term. In addition, the Company places importance on business operations with good corporate governance with social and environment responsibility. Currently, the Company's core business is in the coal business, having two existing coal mining concessions in Indonesia and has recently invested in the third coal mining concession in 2021, in which the concession period of these three coal mines shall last for more than 10 years with large amount of good quality coal reserves that can earn revenues and income continuously for a long time into the future. Nonetheless, current global trend has negative view on fossil fuels, namely oil, natural gas and coal, which are regarded as important factor for creating greenhouse gases, which cause global warming condition, seriously impacting climate conditions, by which there have been attempts to reduce and replace fossil fuels with renewable energy. However, in reality, fossil fuels are currently still the main energy sources and there are still a lot of limitations for switching to alternative energy or renewable energy for the main energy sources. Thus, fossil fuels remain necessary during this transitional period, including coal, which is still required for electricity generation and industrial process, especially with higher demand from countries in the Asia Region, albeit with declining rate of demand in the future. In any case, the Company, with knowledge and expertise in the coal business, is still looking for more investment opportunities in coal concessions in Indonesia in order to compensate for the reduction in coal reserves resulted from continuous production and distribution of coal every year.
The Company realizes about the climate change issues and places importance on the effective utilization of resources by giving priority to environmental care and endeavor to develop and achieve Company's goal toward carbon neutrality in the near future. The Company has established plan to create balances in its investments by focusing on future investments in the clean or renewable energy businesses, which are environmental friendly and have continued to expand; for instance, projects involving solar energy, wind energy, hydro energy and biomass energy, etc. Especially at present, the government sector has encouraged and increased its support for renewable and clean energy projects. Accordingly, the Company is looking for business opportunities or investment channels in order to achieve another round of business growth or a New S-Curve by trying to think outside the box from previous energy business development concept, being more creative in order to develop a new business, which is non-coal business both in Thailand and overseas, albeit without knowledge or expertise in such business. Such investment can be undertaken through business takeover, merger and acquisition or joint venture partnership deal, etc., with the objective to find opportunities or channels for investments in the other businesses to supplement revenue and income from the Company's existing coal business and ethanol business, which should contribute to Company's growth with stability, quality and sustainability in long term according to established guidelines and objectives.
ETHANOL BUSINESS ACTIVITIES
Thai Agro Energy Public Co., Ltd. ("TAE"), a subsidiary company registered in Thailand, with Lanna Resources Public Co., Ltd. directly holds shares at 51 percent of the paid-up capital, conducts business in the production and distribution of ethanol (99.5% anhydrous alcohol by volume) for bio-fuel purpose, with two ethanol production plants operating in Dan Chang District, Suphanburi Province consisting of the Production Line No. 1 with a production capacity of 150,000 liters per day and the Production Line No. 2 with a production capacity of 200,000 liters per day, totaling 350,000 liters per day, utilizing molasses and cassava as main raw materials. Both ethanol plants have received investment privileges under the Investment Promotion Act B.E. 2520. Ethanol is a clean fuel used for blending with gasoline at 10, 20 and 85 percent to become gasohol, namely E10, E20 or E85, that can be used by automobiles in general. Additionally, the ordinary shares of Thai Agro Energy Public Company Limited have been listed in the Stock Exchange of Thailand and security trading has started since June 5, 2014.